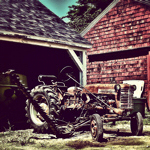 Sure, there are fancier, faster machines out there, but this aged tractor can still get the job done. While it's easy to love smart phones and wi-fi and all the latest gadgets, much of the fertility of our lives comes from wisdom handed down to us from people who managed without the benefit of our contemporary marvels.
What bit of wisdom do you cherish from a person who lived in an earlier age?
The Daily Compass offers words and images to inspire spiritual reflection and encourage the creation of a more loving, inclusive and just world. Produced by The Church of the Larger Fellowship, the Unitarian Universalist Congregation with no geographical boundary. Please support the publishing of The Daily Compass by making a $10 or $25 contribution (more if you can, less if you can't)! Thank you for your support!
Subscribe to Blog via Email