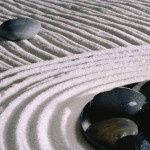 "There is no one way to salvation, whatever the manner in which a [person] may proceed. All forms and variations are governed by the eternal intelligence of the Universe that enables a [person] to approach perfection. It may be in the arts of music and painting or it may be in commerce, law, or medicine. It may be in the study of war or the study of peace. Each is as important as any other. Spiritual enlightenment through religious meditation such as Zen or in any other way is as viable and functional as any "Way."… A person should study as they see fit."
―Miyamoto Musashi
What practice moves you toward salvation?
The Daily Compass offers words and images to inspire spiritual reflection and encourage the creation of a more loving, inclusive and just world. Produced by The Church of the Larger Fellowship, the Unitarian Universalist Congregation Without Walls.