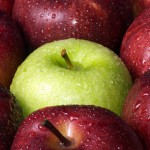 One bad apple might spoil the bunch, but an apple of a different color never hurt anybody. Belonging to a group is not the same as being indistinguishable from those you associate with.
How will you support non-conformity today?
The Daily Compass offers words and images to inspire spiritual reflection and encourage the creation of a more loving, inclusive and just world. Produced by The Church of the Larger Fellowship, the Unitarian Universalist Congregation Without Walls.