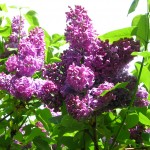 Does the sight of lilacs call their scent to mind? Usually it works the other way, and scent pulls us back into memory, delivering us in an instant to a time and place that we didn't even know we could recall.
When has a scent brought back a powerful memory?
The Daily Compass offers words and images to inspire spiritual reflection and encourage the creation of a more loving, inclusive and just world. Produced by The Church of the Larger Fellowship, the Unitarian Universalist Congregation Without Walls.
Podcast: Play in new window | Download