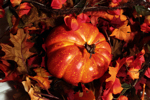 Linus, from the Peanuts cartoons of Charles Schultz, used to spend the evening of Halloween waiting in a pumpkin patch for the Great Pumpkin, who, sadly, never arrived. But if only he had let go of the unobtainable vision of the Great Pumpkin, Linus might have seen that he was surrounded by quite lovely (and pie-worthy) Lesser Pumpkins.
What entirely obtainable treat will you reach for this Halloween?
The Daily Compass offers words and images to inspire spiritual reflection and encourage the creation of a more loving, inclusive and just world. Produced by The Church of the Larger Fellowship, the Unitarian Universalist Congregation Without Walls.