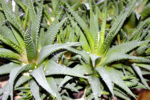 The aloe plant is known for its healing properties. Break a leaf and the sap that oozes out does wonderful things to heal a burn. That same sap will cover over the broken place on the plant and allow it to heal.
What skill that you have developed for healing yourself have you applied to helping others to heal?
The Daily Compass offers words and images to inspire spiritual reflection and encourage the creation of a more loving, inclusive and just world. Produced by The Church of the Larger Fellowship, the Unitarian Universalist Congregation Without Walls. Please support the publishing of The Daily Compass by making a $10 or $25 contribution (more if you can, less if you can't)! Thank you for your support!