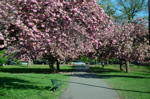 That magic moment when the cherry trees are in full bloom is notoriously brief. Of course, cherry trees don't mind. The moment of flowering is only an invitation to the bees to set in motion the much slower and less glamorous process of setting fruit.
What fruits of your labors are you looking forward to down the line?
The Daily Compass offers words and images to inspire spiritual reflection and encourage the creation of a more loving, inclusive and just world. Produced by The Church of the Larger Fellowship, the Unitarian Universalist Congregation Without Walls. Please support the publishing of The Daily Compass by making a $10 or $25 contribution (more if you can, less if you can't)! Thank you for your support!