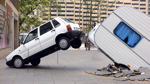 Sometimes it happens that you are cruising along through life, headed down your usual path, when there turns out to be a huge sink-hole that was never there before. Illness, accident, death, divorce—even childbirth or a relationship you never expected, can leave you with your wheels in the air and the wind knocked out of you.
What has helped you to get back on solid ground when life has left you jack-knifed?
The Daily Compass offers words and images to inspire spiritual reflection and encourage the creation of a more loving, inclusive and just world. Produced by The Church of the Larger Fellowship, the Unitarian Universalist Congregation Without Walls.