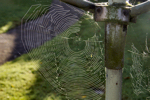 Why do we associate spider webs with spookiness and Halloween? Is it just because the biggest garden spiders are more active in the fall, or is there some deeper reason why these helpful agents of pest control have such a negative reputation? Who else around you might be unjustly getting the blame?
Who are you tempted to think of as dangerous, without any evidence behind your fear?
The Daily Compass offers words and images to inspire spiritual reflection and encourage the creation of a more loving, inclusive and just world. Produced by The Church of the Larger Fellowship, the Unitarian Universalist Congregation Without Walls.