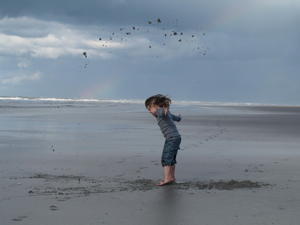 Anyone who has been to the beach with a child knows that sand in the air equals sand in the hair. If you have been to the beach with a child, you probably also know that there is no point in trying to control where the sand goes. Might as well enjoy the mess, and enjoy the lingering sand as a memento of a lovely day.
What kind of mess do you enjoy?
The Daily Compass offers words and images to inspire spiritual reflection and encourage the creation of a more loving, inclusive and just world. Produced by The Church of the Larger Fellowship, the Unitarian Universalist Congregation Without Walls. Please support the publishing of The Daily Compass by making a $10 or $25 contribution (more if you can, less if you can't)! Thank you for your support!