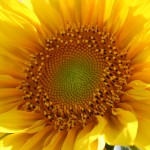 Sunflowers track the sun across the sky because the stem that holds the flower grows faster on the side facing the sun. They literally orient themselves for growth.
What do you do to orient yourself toward your growing edge?
The Daily Compass offers words and images to inspire spiritual reflection and encourage the creation of a more loving, inclusive and just world. Produced by The Church of the Larger Fellowship, the Unitarian Universalist Congregation Without Walls.