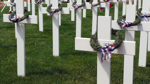 The young dead soldiers do not speak
Nevertheless they are heard in the still houses: who has not heard them?…
They say, Whether our lives and our deaths were for peace and a new hope or for nothing we cannot say: it is you who must say this.
—Archbald Macleish
How do you turn mourning into peace and new hope?
The Daily Compass offers words and images to inspire spiritual reflection and encourage the creation of a more loving, inclusive and just world. Produced by The Church of the Larger Fellowship, the Unitarian Universalist Congregation Without Walls.