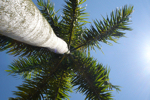 When faced with a seemingly insurmountable task, like climbing a tree with no branches, it doesn't always help to try harder. Sometimes you're better off stepping back and trying to come at the problem in an entirely new way.
What creative solution have you come up with recently?
The Daily Compass offers words and images to inspire spiritual reflection and encourage the creation of a more loving, inclusive and just world. Produced by The Church of the Larger Fellowship, the Unitarian Universalist Congregation Without Walls.