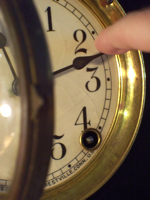 Why is it that we frequently "take time," but we never "give time"? We only say, in the negative, that someone wouldn't give us the time of day. Take your time, certainly, but why not try giving some as well?
Who will you give time to today?
The Daily Compass offers words and images to inspire spiritual reflection and encourage the creation of a more loving, inclusive and just world. Produced by The Church of the Larger Fellowship, the Unitarian Universalist Congregation Without Walls. Please support the publishing of The Daily Compass by making a $10 or $25 contribution (more if you can, less if you can't) before Dec. 31! Thank you for your support!