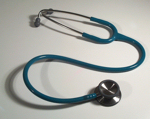 A stethoscope is a clever device that doctors use to listen to a patient's heart. It would be great to have something that would work so handily to help us listen to our own hearts.
What helps you to listen to your own heart?
The Daily Compass offers words and images to inspire spiritual reflection and encourage the creation of a more loving, inclusive and just world. Produced by The Church of the Larger Fellowship, the Unitarian Universalist Congregation Without Walls. Please support the publishing of The Daily Compass by making a $10 or $25 contribution (more if you can, less if you can't)! Thank you for your support!