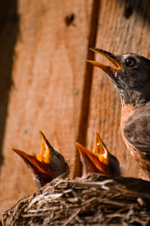 Baby birds wait, beaks to the sky, for food to magically appear—as it almost certainly will. Sometimes patience and faith are all we need. The adult bird, however, had better get off its tail feathers and go hustle up its own grub.
How do you find a balance between trusting in the universe to provide and taking responsibility for creating what you need?
The Daily Compass offers words and images to inspire spiritual reflection and encourage the creation of a more loving, inclusive and just world. Produced by The Church of the Larger Fellowship, the Unitarian Universalist Congregation Without Walls.