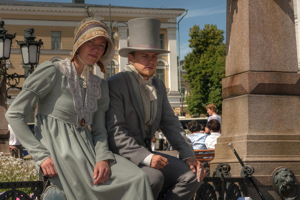 In costume and in collective imagination, re-enactors travel in time to Renaissance Fairs or Civil War re-enactments or the Victorian world of Charles Dickens, to name only a few. Of course, these environments are inevitably far more convenient and pleasant that the original version, but if you're going to travel to someplace that you can't actually go, you might as well make it nice.
Where do you go in your mind that is far nicer as you remember it than it was in the original version?
The Daily Compass offers words and images to inspire spiritual reflection and encourage the creation of a more loving, inclusive and just world. Produced by The Church of the Larger Fellowship, the Unitarian Universalist Congregation Without Walls. Please support the publishing of The Daily Compass by making a $10 or $25 contribution (more if you can, less if you can't)! Thank you for your support!
Subscribe to Blog via Email