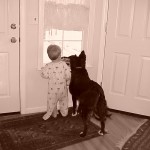 It's so terribly frustrating to see that there is an amazing world out there that we cannot explore, simply because we lack the ability to open the door. Sometimes others have locked the door to keep us confined. Other times we just haven't figured out how to open the door, or even that there is a door to go through.
What do you wish you could explore, if only you were able to?
The Daily Compass offers words and images to inspire spiritual reflection and encourage the creation of a more loving, inclusive and just world. Produced by The Church of the Larger Fellowship, the Unitarian Universalist Congregation Without Walls.
Podcast: Play in new window | Download