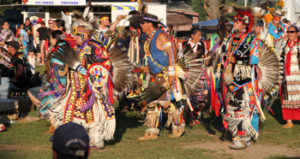 Sadly, the Columbus Day holiday is pretty much the utmost in white supremacy, celebrating a man who perpetrated devastation upon the denizens of the land he "discovered." Indigenous People's Day is a way to honor both the strength and the vulnerability of those who have managed to survive in the face of atrocities.
Who lived on the land where you are now before the white people arrived?
The Daily Compass offers words and images to inspire spiritual reflection and encourage the creation of a more loving, inclusive and just world. Produced by The Church of the Larger Fellowship, the Unitarian Universalist Congregation with no geographical boundary. Please support the publishing of The Daily Compass by making a $10 or $25 contribution (more if you can, less if you can't)! Thank you for your support!
Subscribe to Blog via Email