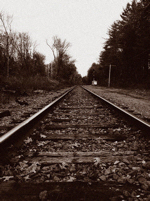 As train tracks stretch into the distance they appear to converge. We know the two sides of a track are always at an even distance, but our eyes tell us that the farther they are away, the closer they are together. Even what we "know" from the evidence of our own eyes isn't necessarily true. Perhaps what we "know" about other people—that they are unkind or selfish or unfair— might be as much a function of our perception as their reality.
How might you see someone who bothers you in a different light?
The Daily Compass offers words and images to inspire spiritual reflection and encourage the creation of a more loving, inclusive and just world. Produced by The Church of the Larger Fellowship, the Unitarian Universalist Congregation with no geographical boundary. Please support the publishing of The Daily Compass by making a $10 or $25 contribution (more if you can, less if you can't)! Thank you for your support!
Subscribe to Blog via Email