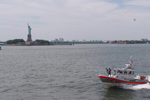 An armed Coast Guard patrols the waters around Lady Liberty, watching diligently to prevent  those who might do her (and her admirers) harm. Yet, Lady Liberty herself stands as a beacon of inclusion, declaring that even "wretched refuse" are welcome.
How are we to balance our impulse to defend against those we don't trust with our desire to be as broadly inclusive and welcoming as possible?
The Daily Compass offers words and images to inspire spiritual reflection and encourage the creation of a more loving, inclusive and just world. Produced by The Church of the Larger Fellowship, the Unitarian Universalist Congregation with no geographical boundary. Please support the publishing of The Daily Compass by making a $10 or $25 contribution (more if you can, less if you can't)! Thank you for your support!
Subscribe to Blog via Email