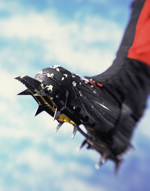 Some situations make it very difficult to hold on. We might feel like we're clinging to the icy side of a mountain as we deal with unemployment, illness, divorce, parenting issues, or any of countless other seemingly insurmountable problems.  Yet, one way or another, however slippery the slope, we manage to keep moving on our journeys.
What tools help you to hold on when the going get s rough?
The Daily Compass offers words and images to inspire spiritual reflection and encourage the creation of a more loving, inclusive and just world. Produced by The Church of the Larger Fellowship, the Unitarian Universalist Congregation with no geographical boundary. Please support the publishing of The Daily Compass by making a $10 or $25 contribution (more if you can, less if you can't)! Thank you for your support!
Subscribe to Blog via Email