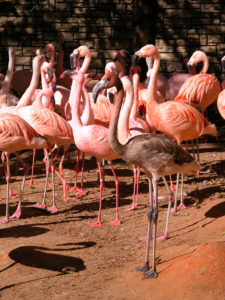 Their vivid pink color is such a central part of how we think of flamingos that they are often referred to as "pink flamingos," as if their color were part of their very name. But other qualities, like their spindly legs, long necks and curved bills, are really more crucial to what makes a flamingo a flamingo.
In what ways do you go against the expectations people have of you based on the family or groups you belong to?
The Daily Compass offers words and images to inspire spiritual reflection and encourage the creation of a more loving, inclusive and just world. Produced by The Church of the Larger Fellowship, the Unitarian Universalist Congregation with no geographical boundary. Please support the publishing of The Daily Compass by making a $10 or $25 contribution (more if you can, less if you can't)! Thank you for your support!
Subscribe to Blog via Email