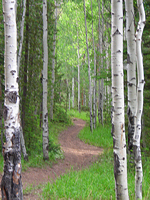 There is much to be said for the amazing views at the top of a rigorous mountain climb, but there's also a lot in favor of a gentle walk in the woods, with nothing more remarkable before you than the repeating trees and the green grass.
What is a reliable source of ease and comfort for you?
The Daily Compass offers words and images to inspire spiritual reflection and encourage the creation of a more loving, inclusive and just world. Produced by The Church of the Larger Fellowship, the Unitarian Universalist Congregation Without Walls.