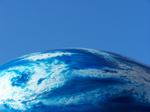 Since Earth Day was founded in 1970 we have made great strides in curbing the air and water pollution that rampaged unchecked at the time. We have also come to realize that greenhouse gasses that seemed innocuous at the time present a greater danger than we could have imagined.
In the struggle for the health of our planet, what fills you with grief? What gives you hope?
The Daily Compass offers words and images to inspire spiritual reflection and encourage the creation of a more loving, inclusive and just world. Produced by The Church of the Larger Fellowship, the Unitarian Universalist Congregation with no geographical boundary. Please support the publishing of The Daily Compass by making a $10 or $25 contribution (more if you can, less if you can't)! Thank you for your support!
Subscribe to Blog via Email