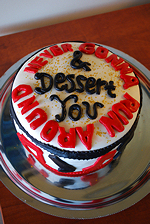 It's a rare person who never worries about being deserted – abandoned by someone we love, or by good fortune itself. But we are just as likely to be dessert-ed – gifted with something sweet that we never expected.
How have you been dessert-ed?
The Daily Compass offers words and images to inspire spiritual reflection and encourage the creation of a more loving, inclusive and just world. Produced by The Church of the Larger Fellowship, the Unitarian Universalist Congregation with no geographical boundary. Please support the publishing of The Daily Compass by making a $10 or $25 contribution (more if you can, less if you can't)! Thank you for your support!
Subscribe to Blog via Email