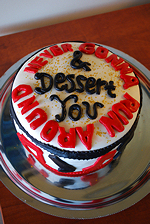 It's a rare person who never worries about being deserted – abandoned by someone we love, or by good fortune itself. But we are just as likely to be dessert-ed – gifted with something sweet that we never expected.
How have you been dessert-ed?
The Daily Compass offers words and images to inspire spiritual reflection and encourage the creation of a more loving, inclusive and just world. Produced by The Church of the Larger Fellowship, the Unitarian Universalist Congregation Without Walls.