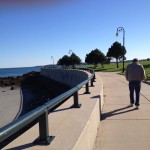 Although this man appears to be entirely solitary on his walk by the beach, he is accompanied not only by the unseen bugs, birds and other wildlife that are always present, but also by the people, living and dead, who are with him in his thoughts.
Who walks unseen with you today?
The Daily Compass offers words and images to inspire spiritual reflection and encourage the creation of a more loving, inclusive and just world. Produced by The Church of the Larger Fellowship, the Unitarian Universalist Congregation Without Walls.