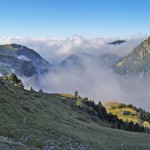 "The natural world is the larger sacred community to which we belong. To be alienated from this community is to become destitute in all that makes us human. To damage this community is to diminish our own existence."
– Thomas Berry
How does connection with nature make you more deeply human?
The Daily Compass offers words and images to inspire spiritual reflection and encourage the creation of a more loving, inclusive and just world. Produced by The Church of the Larger Fellowship, the Unitarian Universalist Congregation Without Walls.