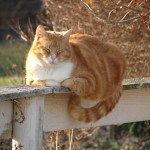 We tend to think of finding our way in life as tension-filled, a precarious path that we tread with caution and difficulty. But when our lives are truly in balance then we can relax into a sense of rightness and contentment, appreciating the place where we are right now.
What part of your life feels the most balanced and relaxed?
The Daily Compass offers words and images to inspire spiritual reflection and encourage the creation of a more loving, inclusive and just world. Produced by The Church of the Larger Fellowship, the Unitarian Universalist Congregation Without Walls.
Podcast: Play in new window | Download