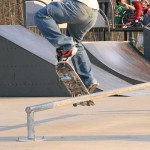 We humans dream of flying, of soaring like hawks on outstretched arms. But mostly we hop, rather than soar. We launch ourselves up, and promptly come back to earth. Perhaps these tiny moments of flight are just as glorious as the unattainable soaring, if only for the fact that we can actually make them happen.
What small victory will you celebrate today?
The Daily Compass offers words and images to inspire spiritual reflection and encourage the creation of a more loving, inclusive and just world. Produced by The Church of the Larger Fellowship, the Unitarian Universalist Congregation with no geographical boundary. Please support the publishing of The Daily Compass by making a $10 or $25 contribution (more if you can, less if you can't)! Thank you for your support!
Subscribe to Blog via Email