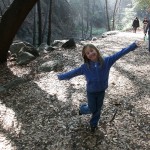 Here's a possibility. Maybe the day, your surroundings, the light and the air are simply glorious. And maybe you, yourself, are simply the most glorious thing in the whole fabulous situation. It just could be.
What in your life is glorious?
The Daily Compass offers words and images to inspire spiritual reflection and encourage the creation of a more loving, inclusive and just world. Produced by The Church of the Larger Fellowship, the Unitarian Universalist Congregation Without Walls.
Podcast: Play in new window | Download