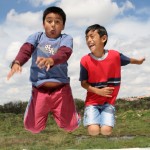 Whether the big bounce on the trampoline is exhilarating or scary depends on whether you are prepared or startled to find yourself suddenly aloft. Of course, life rarely gives us adequate warning before bouncing us into a new place. Which leaves us with the difficult task of trying to find the fun when we are already mid-air.
What helps you to roll with it when life flips your expectations?
The Daily Compass offers words and images to inspire spiritual reflection and encourage the creation of a more loving, inclusive and just world. Produced by The Church of the Larger Fellowship, the Unitarian Universalist Congregation Without Walls.
Podcast: Play in new window | Download