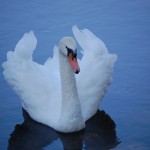 A swan is an awkward creature in the air or on the land. Only on the water does it achieve the full, graceful elegance of a being in its native element.
Where do you feel most grace-filled and at home?
The Daily Compass offers words and images to inspire spiritual reflection and encourage the creation of a more loving, inclusive and just world. Produced by The Church of the Larger Fellowship, the Unitarian Universalist Congregation Without Walls.
Podcast: Play in new window | Download