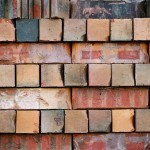 How do you build a wall? Brick by brick, small step by small step, with patience and perseverance.
What brick will you lay today toward the foundation of a dream?
The Daily Compass offers words and images to inspire spiritual reflection and encourage the creation of a more loving, inclusive and just world. Produced by The Church of the Larger Fellowship, the Unitarian Universalist Congregation Without Walls.
Podcast: Play in new window | Download