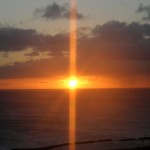 "That deep emotional conviction of the presence of a superior reasoning power, which is revealed in the incomprehensible universe, forms my idea of God."
—Albert Einstein
What forms your idea of God?
The Daily Compass offers words and images to inspire spiritual reflection and encourage the creation of a more loving, inclusive and just world. Produced by The Church of the Larger Fellowship, the Unitarian Universalist Congregation Without Walls.
Podcast: Play in new window | Download