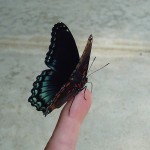 The smallest connection with a wild creature feels like a blessing: a butterfly that lands on our sleeve, a deer who meets our gaze in the wood, the hummingbird that circles us before flying away. Just that tiny acknowledgment feels like a gift, re-binding some thread of a cord that was severed long before we were born.
What moment of connection with a wild animal do you cherish?
The Daily Compass offers words and images to inspire spiritual reflection and encourage the creation of a more loving, inclusive and just world. Produced by The Church of the Larger Fellowship, the Unitarian Universalist Congregation Without Walls.
Podcast: Play in new window | Download