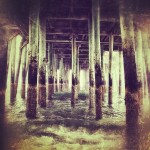 When we walk on a bridge or pier we see the "right side," the side designed for traffic, the side meant to be exposed to the world. But what holds us up is the unseen underside, the structure that makes the rest possible.
What beliefs are so foundational for you that you rarely think about them?
The Daily Compass offers words and images to inspire spiritual reflection and encourage the creation of a more loving, inclusive and just world. Produced by The Church of the Larger Fellowship, the Unitarian Universalist Congregation Without Walls.