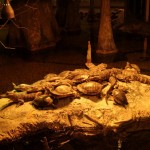 There's nothing so cute as a picture of a dog that's befriended a rabbit, or a moose that is best friends with a cow. It warms the heart to think of love flourishing in unlikely places. But sometimes it is worth celebrating the ways in which we simply manage to peacefully share space with those who are near us: the neighbors or co-workers who we may not enjoy, but who have as much right to the rock as we.
How do you make space for people you don't care for, or with whom you disagree?
The Daily Compass offers words and images to inspire spiritual reflection and encourage the creation of a more loving, inclusive and just world. Produced by The Church of the Larger Fellowship, the Unitarian Universalist Congregation Without Walls.