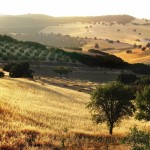 Tu B'Shevat, the Jewish New Year for trees, begins this evening. You might not think that late January makes sense as a time of beginning for trees, since in many places they are still dormant and leafless. But in a climate like that of Israel, you can see buds starting to form this time of year. It's still a considerable wait until leaves are out, let alone until harvest, but all of that is implicit in the first little buds.
What buds do you see in your life that might lead to a harvest down the road?
The Daily Compass offers words and images to inspire spiritual reflection and encourage the creation of a more loving, inclusive and just world. Produced by The Church of the Larger Fellowship, the Unitarian Universalist Congregation Without Walls.