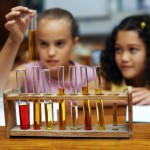 Generally people think of religion as, by definition, something that you take on faith. And indeed most religious questions aren't subject to scientific testing—there isn't an experiment that will prove or disprove the existence of God or an afterlife. And yet, our religious convictions are only really meaningful if they hold up in the context of our lives and our other beliefs, to the tests of whether  they make sense and whether they help us to live better lives.
What religious beliefs have changed for you as you've tested them against your life and values?
The Daily Compass offers words and images to inspire spiritual reflection and encourage the creation of a more loving, inclusive and just world. Produced by The Church of the Larger Fellowship, the Unitarian Universalist Congregation Without Walls.