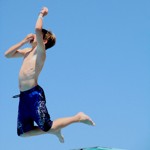 Perhaps you have seen, or even been, the child who approaches the high dive, looks down, pauses, climbs back down the ladder, climbs back up the ladder, goes back down the ladder, climbs up the ladder again, pauses, looks, and finally takes the big jump. Somehow, in the climbing and the looking down and the watching others jump and survive and race to jump again, the fear doesn't necessarily go away, but the longing for the sense of flying grows until it outweighs the fear, and the scales tip.
What leap into the unknown have you taken in spite of the fear?
The Daily Compass offers words and images to inspire spiritual reflection and encourage the creation of a more loving, inclusive and just world. Produced by The Church of the Larger Fellowship, the Unitarian Universalist Congregation Without Walls.