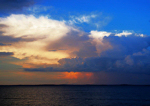 One of the most beautiful moments of the day comes as the sun goes down, and the light is lost. We know the dark is coming, but for this brief time the sky is at its most glorious.
When have you found beauty in the presence of loss?
The Daily Compass offers words and images to inspire spiritual reflection and encourage the creation of a more loving, inclusive and just world. Produced by The Church of the Larger Fellowship, the Unitarian Universalist Congregation Without Walls.