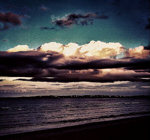 Light and shadow, water and land—sometimes the places of greatest beauty are when opposites meet up.
Have you ever found beauty in a close encounter with something or someone you were opposed to?
The Daily Compass offers words and images to inspire spiritual reflection and encourage the creation of a more loving, inclusive and just world. Produced by The Church of the Larger Fellowship, the Unitarian Universalist Congregation Without Walls.