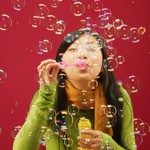 We often lament the transience of life, and how nothing that we do seems to last. But who hasn't had their heart lifted by a cloud of bubbles that lasts only for seconds? Bubbles are fun not in spite of their fragility, but because of it.
What tiny, fleeting moment of grace have you noticed recently?
The Daily Compass offers words and images to inspire spiritual reflection and encourage the creation of a more loving, inclusive and just world. Produced by The Church of the Larger Fellowship, the Unitarian Universalist Congregation Without Walls.