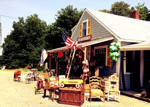 Sometimes we define things that are old as useless junk, and sometimes we view those old things as priceless treasures—and two people might have very different assessments of the exact same item.
What do you cherish for its history that someone else might see as junk?
The Daily Compass offers words and images to inspire spiritual reflection and encourage the creation of a more loving, inclusive and just world. Produced by The Church of the Larger Fellowship, the Unitarian Universalist Congregation Without Walls.