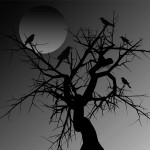 On Halloween we scare ourselves with skeletons, and as the trees lose their leaves we may think the bare branches ominous or dull. But there is also beauty in the bones of things, in the spare shape of the structures at the center.
In times of loss, have you found beauty in the essentials that remained?
The Daily Compass offers words and images to inspire spiritual reflection and encourage the creation of a more loving, inclusive and just world. Produced by The Church of the Larger Fellowship, the Unitarian Universalist Congregation Without Walls.