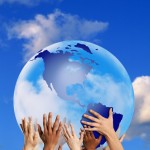 "One definition of eternity is that we are not alone on this planet, that there are those who've gone before and those who will come, and that there is a community of spirits."
—Rita Dove
Who would you name as important members of your personal community of spirits?
The Daily Compass offers words and images to inspire spiritual reflection and encourage the creation of a more loving, inclusive and just world. Produced by The Church of the Larger Fellowship, the Unitarian Universalist Congregation Without Walls.