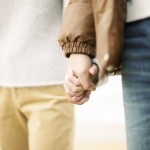 "The smallest indivisible human unit is two people, not one; one is a fiction. From such nets of souls societies, the social world, human life springs."
―Tony Kushner
To what " nets of souls" do you belong?
The Daily Compass offers words and images to inspire spiritual reflection and encourage the creation of a more loving, inclusive and just world. Produced by The Church of the Larger Fellowship, the Unitarian Universalist Congregation Without Walls.