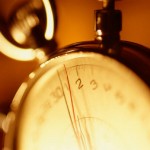 Wouldn't it be great if a stopwatch would actually stop and restart time, rather than just stopping and starting a timer? I'm afraid the closest we'll ever be able to come to that fantasy is to learn to be fully present and alive in the moments that we are given.
If you could pause time for some bit of your life, what moment would you choose?
The Daily Compass offers words and images to inspire spiritual reflection and encourage the creation of a more loving, inclusive and just world. Produced by The Church of the Larger Fellowship, the Unitarian Universalist Congregation Without Walls.