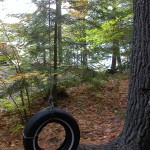 When the tire is no longer useful for a car, it is still good for a swing. But when summer ends, or children grow up, what is the swing good for? Sometimes the answer comes with patience, sometimes with determination, sometimes with burst of creativity that makes everything new.
How do you hold on to your sense of purpose in life during the times when you feel adrift?
The Daily Compass offers words and images to inspire spiritual reflection and encourage the creation of a more loving, inclusive and just world. Produced by The Church of the Larger Fellowship, the Unitarian Universalist Congregation Without Walls.