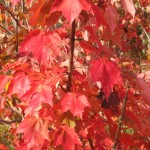 Look, the trees are turning their own bodies into pillars of light writes Mary Oliver. In the same way that the colors of a sunset get more intense before they fade to dark, autumn offers us nature's brightest beauty before the dullness of winter takes over.
How has aging brought out the color and beauty in you or someone you love?
The Daily Compass offers words and images to inspire spiritual reflection and encourage the creation of a more loving, inclusive and just world. Produced by The Church of the Larger Fellowship, the Unitarian Universalist Congregation Without Walls.