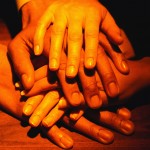 Many hands working together can push a stalled car out of traffic, pull someone from a cliff to safety or get sand bags in place before the waters rise. But sometimes all we need is hand piled on hand, an expression of solidarity so that we know we are not alone.
How will you offer your hand in help or solidarity today?
The Daily Compass offers words and images to inspire spiritual reflection and encourage the creation of a more loving, inclusive and just world. Produced by The Church of the Larger Fellowship, the Unitarian Universalist Congregation Without Walls.