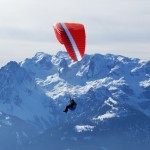 At a terrifying height, in the midst of breathtaking beauty, the glider hangs calmly suspended, as if the fragile perch could as easily be a porch swing or a desk chair. In moments of true balance, both life's terror and its beauty are simply facts, like feeling the rush of wind or the warmth of the sun.
How will you find balance in the terror and the beauty of your day?
The Daily Compass offers words and images to inspire spiritual reflection and encourage the creation of a more loving, inclusive and just world. Produced by The Church of the Larger Fellowship, the Unitarian Universalist Congregation Without Walls.