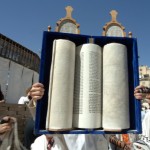 On Simchat Torah, the celebration of the completion of the yearly cycle of reading from the Torah, Jews march and dance around the synagogue carrying the Torah scroll. And then, as part of the joyful celebration, they start the cycle of reading over again: B'reshit…In the beginning…
What is ending in your life? How might that ending bring a joyful beginning?
The Daily Compass offers words and images to inspire spiritual reflection and encourage the creation of a more loving, inclusive and just world. Produced by The Church of the Larger Fellowship, the Unitarian Universalist Congregation Without Walls.