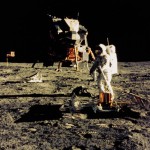 Imagine stepping out into an environment unlike anything you've ever seen, where danger is ever-present and even the weight of your own body is unfamiliar. Imagine being filled with such wide-eyed curiosity that it is worth risking everything simply to experience and learn about something utterly new.
What is the furthest you have ever been outside your comfort zone? Why did you choose to go there?
The Daily Compass offers words and images to inspire spiritual reflection and encourage the creation of a more loving, inclusive and just world. Produced by The Church of the Larger Fellowship, the Unitarian Universalist Congregation Without Walls.