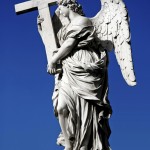 In the Roman Catholic calendar, October 2nd is honored as the Feast of the Guardian Angels, which celebrates the idea that each person has a special guardian angel to watch over and protect them.
Whose love do you feel watching over you?
The Daily Compass offers words and images to inspire spiritual reflection and encourage the creation of a more loving, inclusive and just world. Produced by The Church of the Larger Fellowship, the Unitarian Universalist Congregation Without Walls.