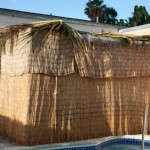 For Sukkot, the Festival of Booths, Jews build a flimsy structure that is permeable enough to the outside that you can see the stars through the roof. Throughout the eight-day holiday the faithful eat, hang out, or even sleep in this fragile, leafy hut.
This week, how will you allow yourself to be open and vulnerable to the world around you?
The Daily Compass offers words and images to inspire spiritual reflection and encourage the creation of a more loving, inclusive and just world. Produced by The Church of the Larger Fellowship, the Unitarian Universalist Congregation Without Walls.