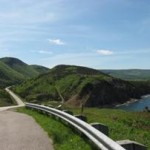 You do not know where this path will take you. You do not know how far the road will go, or what obstacles you may meet along the way. There is always a bend ahead around which you cannot see. So perhaps there is no spot on the journey more beautiful than where you are right now.
What do you admire about the view from this point in your life
The Daily Compass offers words and images to inspire spiritual reflection and encourage the creation of a more loving, inclusive and just world. Produced by The Church of the Larger Fellowship, the Unitarian Universalist Congregation Without Walls.