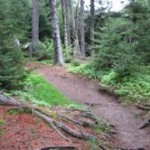 Much of a tree is hidden below the ground, gaining support and sustenance from the earth in ways that are generally invisible to us.
What sustains you, even though you don't often think about it?
The Daily Compass offers words and images to inspire spiritual reflection and encourage the creation of a more loving, inclusive and just world. Produced by The Church of the Larger Fellowship, the Unitarian Universalist Congregation Without Walls.