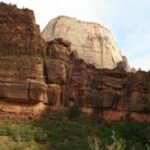 Somehow, when we have overcome an obstacle or worked through a difficult problem, it feels as if we should arrive at the "land of milk and honey," a place of rest and ease. But there will always be other obstacles, other mountains to climb, other problems that press forward.
How do you find ways to rest and renew yourself, even in the midst of the journey?
The Daily Compass offers words and images to inspire spiritual reflection and encourage the creation of a more loving, inclusive and just world. Produced by The Church of the Larger Fellowship, the Unitarian Universalist Congregation Without Walls.