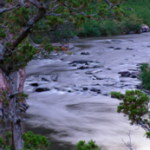 Is this a picture of stillness and peace, or a picture of headlong motion? What does a fisherman see looking at this river? A kayaker? A fish? You've probably heard the saying that you can't step twice in the same river. But really, no two of us sees the same river, even at precisely the same moment.
How might you see things from another's perspective today?
The Daily Compass offers words and images to inspire spiritual reflection and encourage the creation of a more loving, inclusive and just world. Produced by The Church of the Larger Fellowship, the Unitarian Universalist Congregation Without Walls.