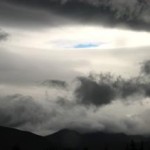 My father used to sing the old song "Look for the silver lining whenever clouds appear in the blue." This always confused me as a child, since clouds very often do have silver-grey edges. But perhaps my childish failure to understand "silver lining" wasn't so far off. Maybe, rather than trying to remember that "somewhere the sun is shining" we're better off seeing the beauty in the clouds themselves.
Where have you found unexpected beauty?
The Daily Compass offers words and images to inspire spiritual reflection and encourage the creation of a more loving, inclusive and just world. Produced by The Church of the Larger Fellowship, the Unitarian Universalist Congregation Without Walls.