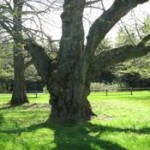 The traumas of a tree's life are visible on the surface, as knots form and bark curls around to protect and restore the damaged places.
How might you treat those around you differently if you could read their life stories in their skin?
The Daily Compass offers words and images to inspire spiritual reflection and encourage the creation of a more loving, inclusive and just world. Produced by The Church of the Larger Fellowship, the Unitarian Universalist Congregation Without Walls.